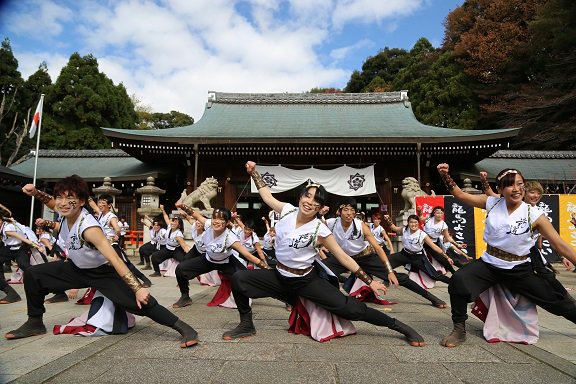 Vol.4
What is "Yosakoi"? Enjoy Japanese style dancing with Sakura and landmarks in Kyoto.
2018.09.14
Kyoto is one of the most popular sightseeing destinations in Japan, visited by people from all over the world. With traditional buildings, maiko or geisha, cuisine unique to Kyoto, traditional events and festivals, and seasonal sights like cherry blossoms (sakura) and autumn leaves (kouyou), there are so many things to do in Kyoto.
Did you know, though, that there are some really exciting and energetic festivals in Kyoto that people can attend while enjoying some of Kyoto's best places and things? Let me introduce you to yosakoi dance, and two main yosakoi festivals held in Kyoto!
What is "Yosakoi"?

Yosakoi is a kind of Japanese style dance. Dancers wear beautiful costumes and bright make up and perform to the traditional-style music of yosakoi songs. Yosakoi dancers belong to a team and every team tries to present their own style by creating unique music, choreography, and costumes by themselves. Some yosakoi dancers use props, too. For example, a musical instrument called naruko, fans (sensu), Japanese umbrellas, flags and so on.
Originally, "yosakoi" was an archaic word "yosarikoi" which literally means "Come on in at night." It gradually changed over the centuries. Yosakoi dance was performed for the first time in 1950 in Kochi prefecture. The first yosakoi festival was held in 1954 in Kochi to encourage regional and economic recovery after the WWⅡ. Yosakoi spread across the whole country, and today there are about 220 yosakoi festivals all over Japan. (Information from "Kyoto Sakura Yosakoi" homepage)
Yosakoi teams can be made of adults or children, or even very big teams of more than 100 university students! Happily, foreign yosakoi dancers can be seen, too! As a yosakoi dancer myself, I hope yosakoi will become a famous part of Japanese culture in other countries.
Yosakoi festivals in Kyoto      
There are two main yosakoi festivals held in Kyoto: "Kyoto Sakura Yosakoi" and "Ryoma Yosakoi". This article will introduce these two yosakoi festivals.
1. Kyoto Sakura Yosakoi (京都さくらよさこい)
When: Early April (first Saturday & Sunday)
Where: Various places in Kyoto City (Heian Jingu Shrine/平安神宮, Nijo-jo Castle/二条城, Kyoto Station Building etc...) *The locations may change.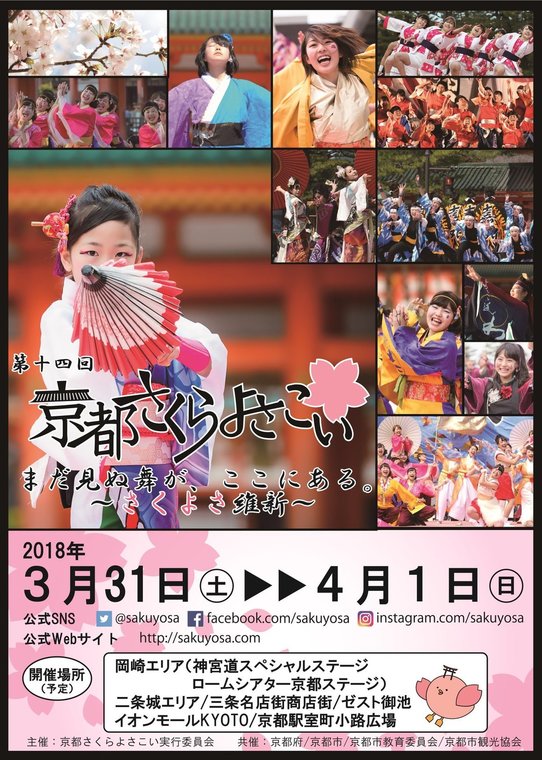 Okazaki (Heian Jingu Shrine, Rohm Theatre Kyoto)
#About 15 minutes walk from subway Higashiyama Station.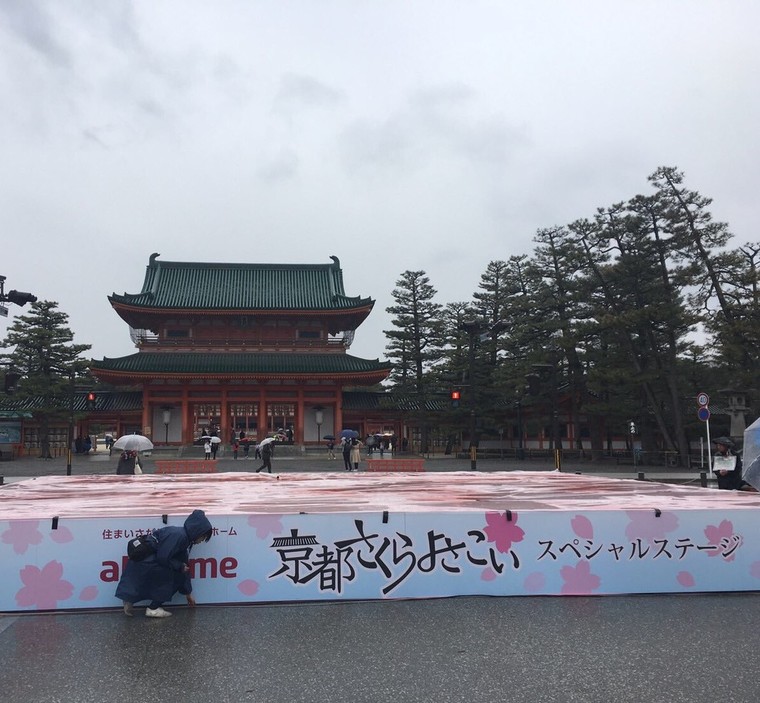 Jingu-do Special Stage (Main Stage) *In front of Heian Jingu Shrine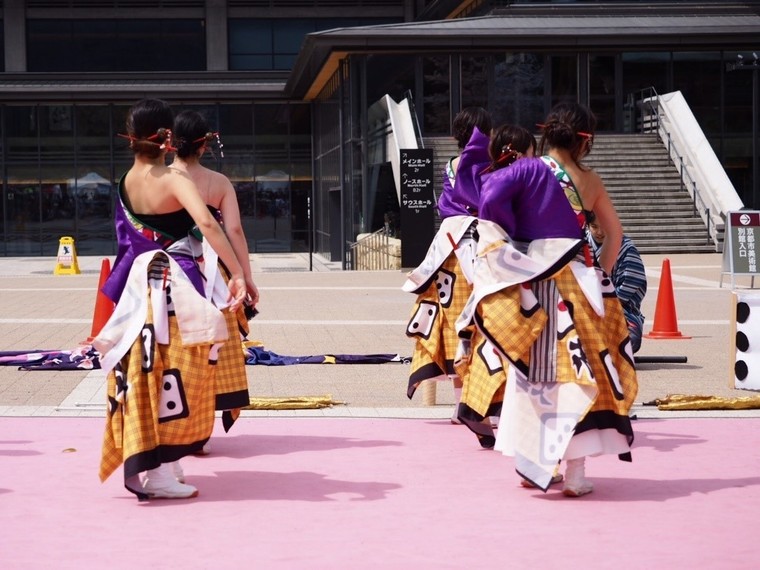 Rohm Theater Kyoto Stage *In front of Rohm Theater Kyoto
Nijo-jo Castle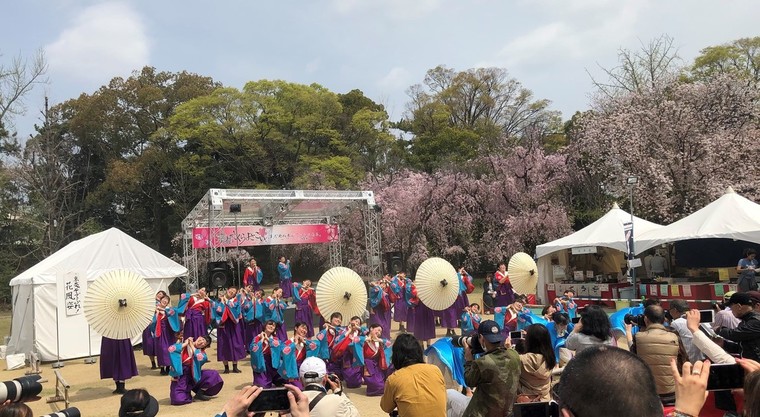 Sanjo Meiten-gai Shopping Street (三条名店街商店街)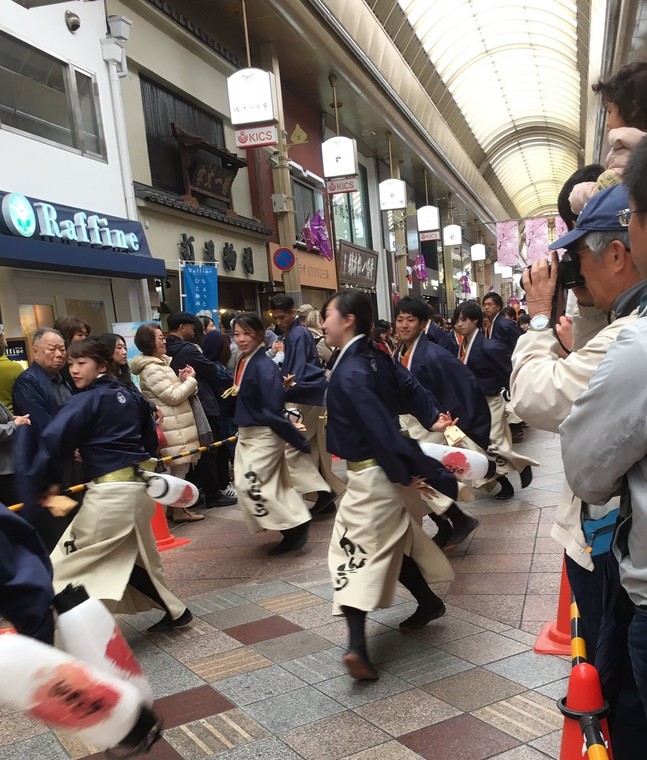 This is the only venue for Kyoto Sakura Yosakoi's parade. You can enjoy different performances from other stages in a small space!
Zest Oike (ゼスト御池)  
*Inside the station building of Kyoto City Hall Station.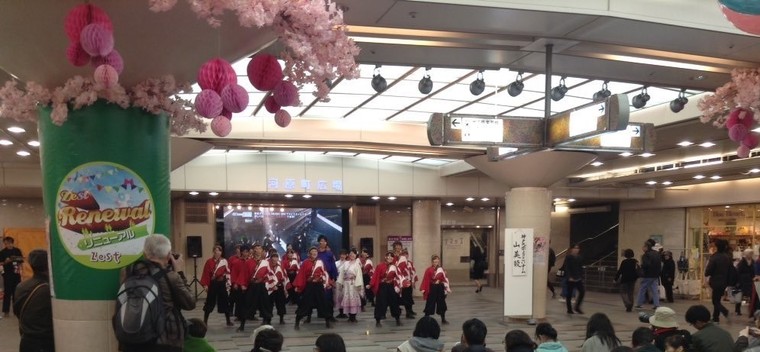 Near the station, there are some popular sightseeing spots like Nishiki Ichiba Market (錦市場) and Teramachi Kyogoku Shopping Street (寺町京極商店街). Please enjoy the performances while you shop.
Kyoto Station Building    *In front of the huge staircase in Kyoto Station.
Aeon Mall KYOTO  *First floor (grand floor) of Aeon Mall KYOTO Sakura Building.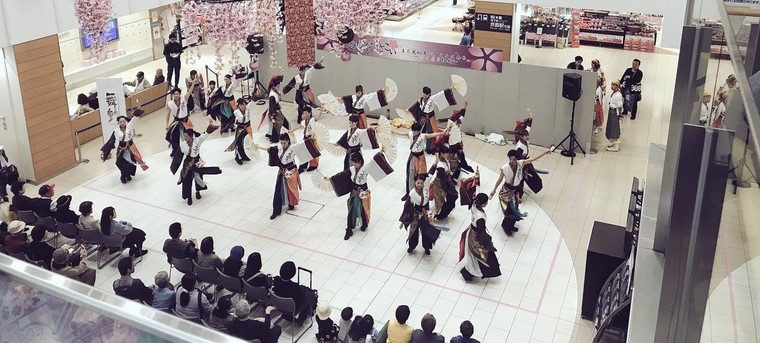 This yosakoi festival is held annually in early April, when you can enjoy some really magnificent yosakoi dance with brilliant costumes in front of traditional buildings like Heian Jingu Shrine or Nijo-jo Castle, all with cherry blossoms in full bloom. Yosakoi festivals held in the cherry blossom season are very rare across Japan, so it's worth seeing this one once!

https://publish.twitter.com/?url=https://twitter.com/sakuyosa/status/972432368169451524
From Kyoto Sakura Yosakoi Twitter
Official homepage: http://www.sakuyosa.com/ (English)
2. Ryoma Yosakoi (龍馬よさこい)
When: Early November (Second Saturday & Sunday)
Where: Various places in Kyoto City (Kyoto Ryozen Gokoku Jinja Shrine/京都霊山護国神社, the square in front of JR Kyoto station) *Locations may
change.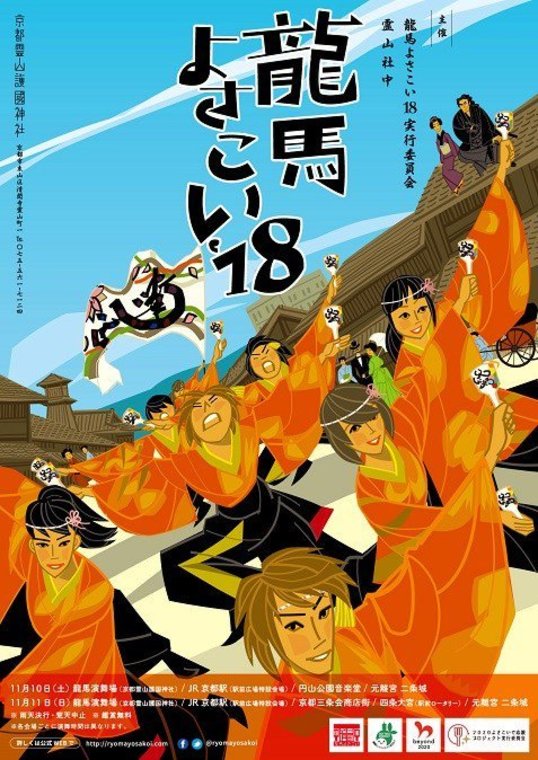 Kyoto Ryozen Gokoku Jinja Shrine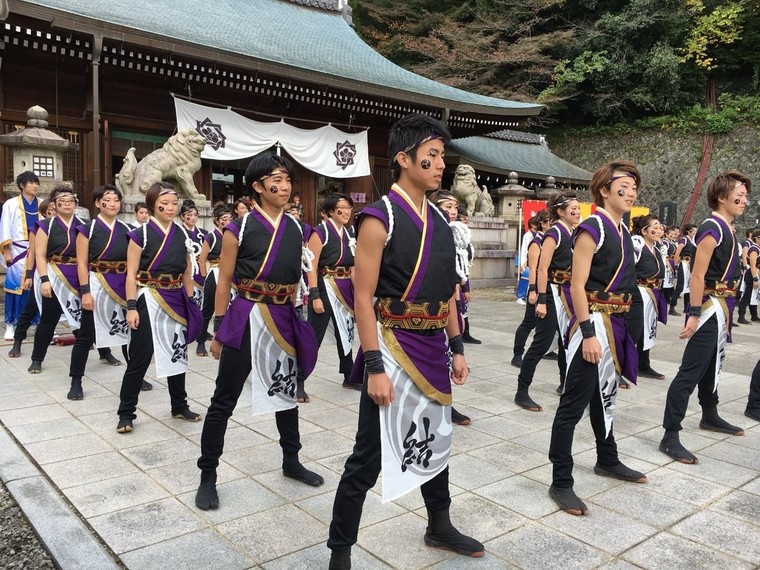 Square in front of JR Kyoto Station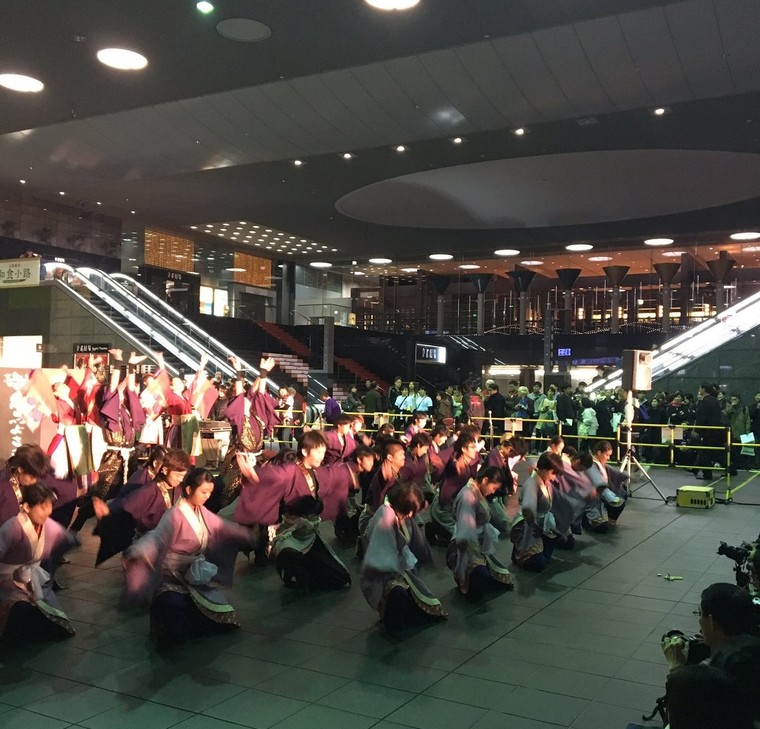 Maruyama Park Bandstand *Near the Yasaka Jinja Shrine and Kodaiji temple.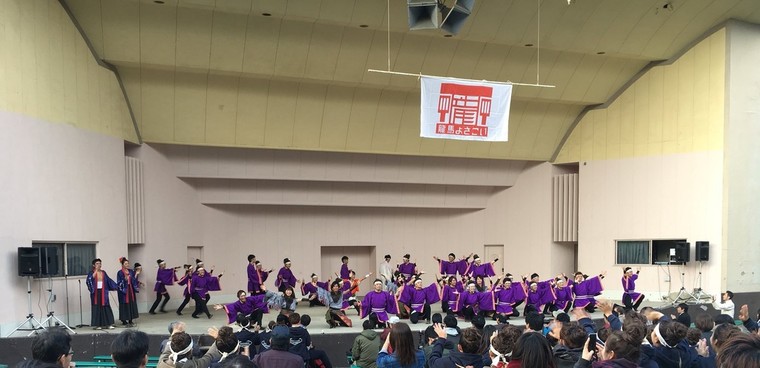 Kyoto Sanjo-kai Shopping Street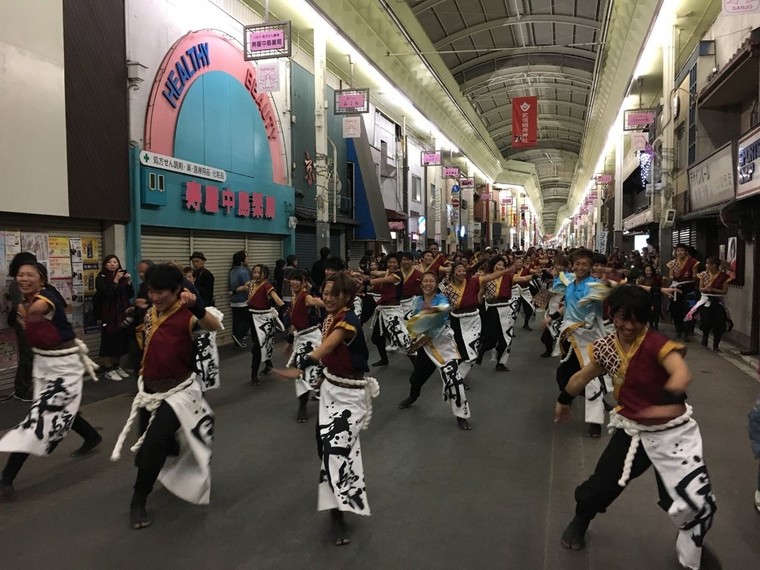 This is the venue for the parade.
*Sanjo-kai Shopping Street is a different place from Sanjo Meitengai Shopping Street, which has a similar name. Be careful!
Nijo-jo Castle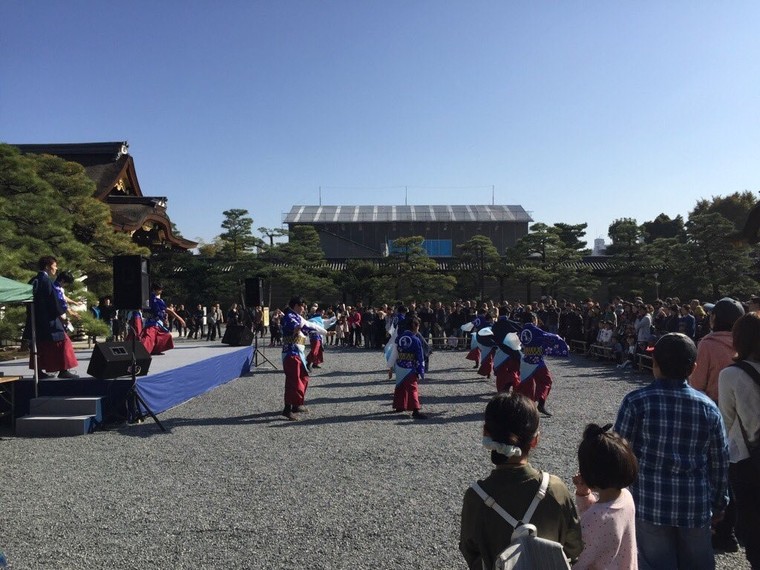 As you can guess from the name of this festival, Ryoma Yosakoi is a yosakoi festival held at locations related to Sakamoto Ryoma in Kyoto City. Sakamoto Ryoma is one of the most famous people in Japanese history. 2018 in particular is the 150th anniversary of the Meiji Restoration. How about touring places related to Ryoma while you enjoy some yosakoi to make some memories in Kyoto?

Official homepage: http://ryomayosakoi.com/ (Japanese)

In these two festivals, there are two types of performance: on-stage or in a parade. Not only these two festivals, but many other festivals also have these two types of performance. Parade type-festivals are usually held on roads or shopping streets, so the distance between dancers and the audience is closer than stage-type festivals. Depending on the venue, you can see the dancers right before your eyes. If you are lucky, you may be able to high five the dancers!
In addition, you can take part in yosakoi dance, too! A part of the festival called "So odori" is like a free dance time, in which dancers from many teams, staff, and audience can join in. So odori is held between performances and at the very end of these festivals. So odori choreography is very easy, so everyone can come alive during this part! The hour of So odori at the very end of Sakura Yosakoi, in particular is the climax of the festival! Everyone dances to So odori songs from all over Japan for one hour. Of course you can take pictures and video of performances freely, you'll be able to look back on all your good memories! You can also buy limited edition festival goods as a souvenir.
You can enjoy food unique to Japanese festivals near the main stage, too like regular Japanese festivals. Performance venues are set in popular sightseeing sights, station buildings, and shopping malls. So why not come see some yosakoi while you're waiting for somebody, your train, or on your way to go sightseeing or shopping?